Discover the all-new 2023 Ford F-150 
The 2023 Ford F-150 is not your average truck; it's the ultimate do-it-all pickup that's designed to adapt to your lifestyle. With multiple choices of wheelbases, body styles, spacious seating options, and more, the F-150 can be configured to meet your unique needs. But don't be fooled by its versatile design – the F-150 is a true powerhouse, purpose-built to conquer any terrain with ease. From the 3.5L PowerBoost™ Full Hybrid V6 engine to impressive power ratings across the lineup, this pickup delivers legendary power that stands up to any challenge. 
Before it hits the showroom floor, it has to earn the Built Ford Tough® title through the harshest tests, including towing fully loaded trailers over desert mountain passes, withstanding extreme weather conditions, and conquering punishing off-road terrain. With the 2023 Ford F-150, you'll experience unmatched performance, power, and reliability that exceeds your every expectation.
Meet the ultimate engine option lineup
The 2023 Ford F-150 packs a powerful punch with six engine options that cater to your specific needs. Whether you're hauling heavy loads or blazing new trails, the F-150 has the horsepower and torque to get the job done.
3.5L PowerBoost™ Full Hybrid V6
With 430 horsepower and 570 lb.-ft. of torque, the 3.5L PowerBoost™ Full Hybrid V6 engine handles heavy-duty tasks with ease. The engine has a maximum towing capacity of 12,700 lbs and is capable of carrying a maximum payload of 2,120 Lbs.
3.5L EcoBoost® V6
Unleash the full potential of your truck with the 3.5L EcoBoost® V6 engine of the 2023 F-150. With an incredible power output of 400 horsepower and 500 lb.-ft. of torque, it's the ideal engine for heavy towing and hauling jobs. Boasting a tow rating of up to 14,000 lbs., this engine is equipped with a Ford port-fuel and direct-injection (PFDI) system.
2.7L EcoBoost® V6
The Ford F-150's 2.7L EcoBoost V6 engine may only displace 2.7 liters, but it packs an impressive 325 horsepower and 400 lb.-ft. of torque. The secret lies in the Ford port-fuel and direct-injection (PFDI) system, which includes two injectors per cylinder, a dual overhead cam design with variable intake and exhaust cam timing, and twin intercooled turbochargers that provide on-demand power.
5.0L TI-VCT V8
Make light work of any load. Experience a robust 400 horsepower and 410 lb.-ft. of torque, thanks to twin independent variable camshaft timing (Ti-VCT) and the Ford port-fuel and direct-injection (PFDI) system with two injectors per cylinder. With a maximum payload rating of 3,310 lbs., the 5.0L TI-VCT V8 makes hauling even the heaviest loads seem like a walk in the park.
3.3L Ti-VCT V6
Unleash the power of the 3.3L Ti-VCT V6 engine, offering incredible performance with a responsive 290 horsepower and 265 lb.-ft. of torque. This high-performing engine features twin independent variable camshaft timing (Ti-VCT), which opens and closes the valves precisely to match the operating conditions, ensuring that power output is optimized at every point throughout the performance band.
High-Output 3.5L EcoBoost®
Built to take on even the toughest terrains, this Raptor engine is a force to be reckoned with. The high-output 3.5L twin-turbo HO EcoBoost® engine delivers an impressive 450 horsepower and 510 lb.-ft. of torque, ensuring you have the power you need to conquer any challenge. With the Ford port-fuel and direct-injection system, you can count on smooth and efficient performance, whether you're on or off the road.
A rugged exterior meets luxurious comfort.
The 2023 Ford F-150 offers refined features to ensure your comfort inside of its ultra-tough exterior. The F-150's available Interior Work Surface provides ample room for getting the job done. The gear shift is cleverly stowed away, allowing you to unlock the center console and create a flat surface that's perfect for working on a laptop. Whether you're using your F-150 for work or play, you can choose from a range of stylish, comfortable, and durable seating options that will accommodate you and your crew. Additionally, available leather-trimmed seats add a touch of sophistication, even when you're driving off the beaten path.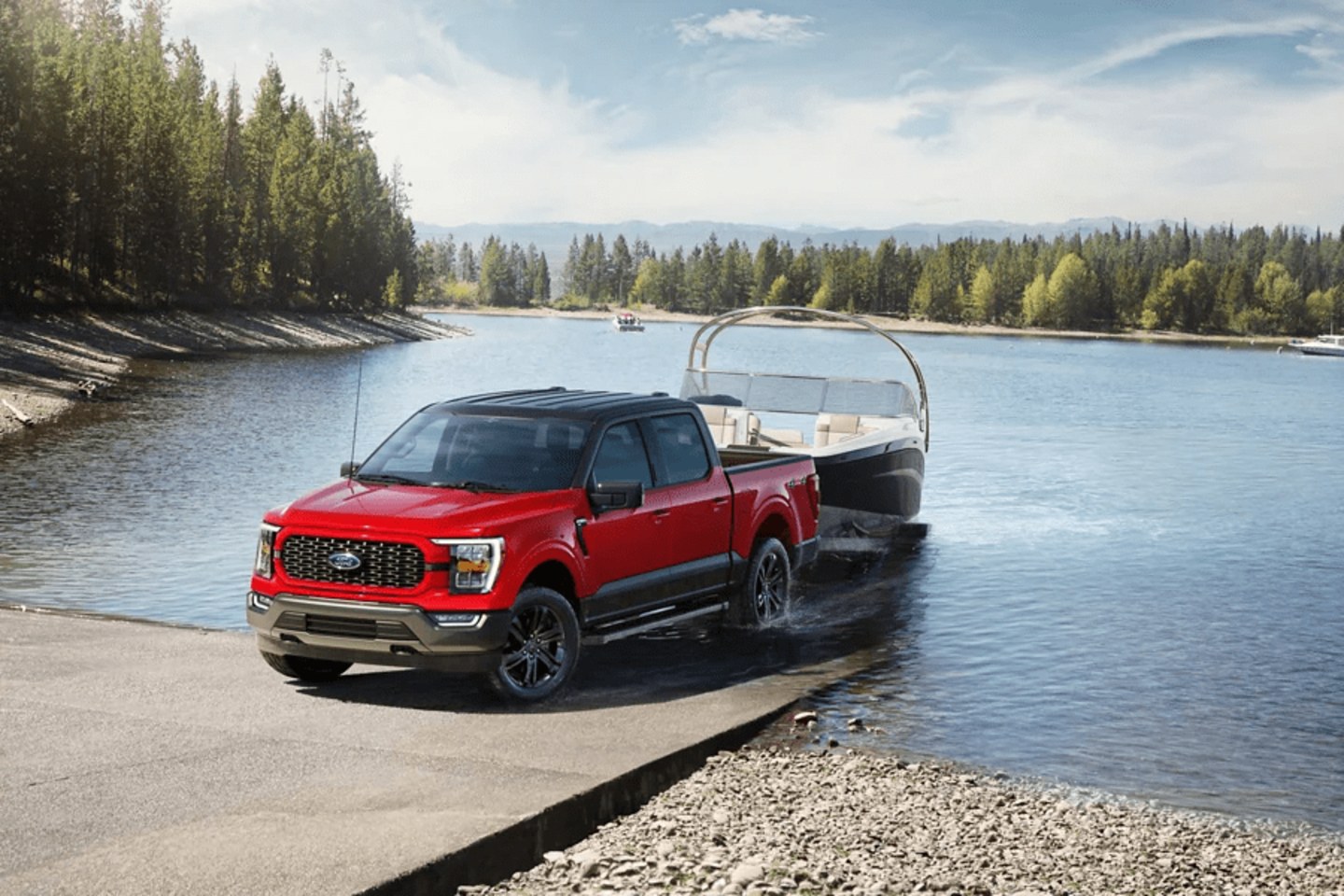 Drive with confidence with the 2023 F-150's advanced safety features
The 2023 Ford F-150 is more than just America's favorite pickup truck. It's a vehicle equipped with great safety features that deliver total peace of mind on the road, so you can tackle every day. Anti-lock brakes, stability control, and pretensioners are just a few of the features that help to increase the F-150's handling and response during emergency situations. And, in the unfortunate event of a collision, the front-impact, side impact, and overhead airbags will protect both you and your passengers. At J.C. Lewis Ford Savannah, we invite you to schedule a test drive to experience these cutting-edge safety features for yourself. Your safety is our top priority, and we believe that the 2023 Ford F-150 is an excellent choice for anyone looking for a reliable and safe vehicle.
Match Your Unique F-150 Configuration Needs at J.C. Lewis Ford Pooler
Whether you're looking for a work-ready vehicle or a rugged off-road explorer, you'll find a perfect fit with the F-150. Choose from a range of seating options and advanced technology features to create your ultimate ride. Our team of experts is dedicated to helping you navigate the choices, and we're ready to assist you in finding the ultimate F-150 configuration that will meet your unique requirements. Come see us today to find your perfect F-150 at J.C. Lewis Ford Pooler.
The 2023 Ford F-150's Eight Unique Trim Options
If you're looking for a tough, reliable pickup truck, look no further than the 2023 Ford F-150. Whether you need to tow, haul, or just have some fun on the open road, the F-150 is the perfect choice. With eight different trim levels to choose from, you can ensure your new F-150 fits your exact needs. Each trim level offers its own unique set of features, allowing you to find the perfect combination of power, technology, and style.
F-150 XL 
The 2023 F-150 XL comes packed with plenty of useful technology and equipment, such as selectable drive modes that will help you navigate through difficult terrains with ease. An AdvanceTrac® electronic stability system provides added control when the roads are less than perfect.
F-150 XLT
Discover the 2023 Ford F-150 XLT with Ford Co-Pilot360™ 2.0 driver assistance technologies. Upgrade to enjoy available features such as the Bang & Olufsen® sound system, intelligent adaptive cruise control, 360-degree camera, two-tone paint treatment, and extended running boards. Customize your F-150 XLT to fit your style and preferences.
F-150 Lariat 
Experience superior lighting with the 2023 Ford F-150 LARIAT, which comes with zone lighting to brighten up the sides, back or surrounding areas. You'll be amazed by its performance, powered by an efficient EcoBoost® engine. Step into the future with available BlueCruise hands-free driving technology.
F-150 King Ranch
With a V8 engine under the hood, you'll have all the power you need to get the job done with the King Ranch. And when it comes to style, Stone Gray exterior details on the front grille and angular step bars give it a distinctive look. The interior is also upgraded to provide you with a comfortable ride.
F-150 Platinum
Enjoy the look of chrome details? The Platinum trim boasts a chrome exterior that shines on the front grille, side mirrors, handles, doors, and tailgate. Choose between 4x4 or 4x2 and enjoy 20-inch polished aluminum wheels.
F-150 Limited
The Limited trim is the ultimate in luxury, with standard hands-free driving technology and a 1080-watt sound system with 18 speakers. Plus, you'll have all the trailer support you need. It's a top-of-the-line driving experience. 
F-150 Tremor
For 2023, the Tremor comes equipped with a powerful V8 engine and optional EcoBoost V6, so you can handle any terrain with ease. Deep snow/sand, mud/rut, and rock crawl drive modes offer superior control, while additional options like a 4.10 front axle, tailgate viscous dampening, and trailer tow packages make towing and hauling a breeze.
F-150 Raptor
For maximum off-road capability, check out the F-150 Raptor® and Raptor R™. The extra-wide flare front fenders and long travel suspension system make it easy to grip the road and conquer any obstacle. Plus, the Baja drive mode is perfect for high-speed off-roading. Show off your power with the active valve exhaust system and enjoy a style that's designed to turn heads.