Unleash the roar: Introducing the 2022 Ford Mustang
Get ready to rev your engines and experience the ultimate ride with the 2022 Ford Mustang. This iconic vehicle is built for speed, power, and undeniable flair, with its signature growl and unmistakable style. The Mach 1 and Mach 1 Premium models are the pinnacle of 5.0L performance, drawing upon the Mustang's performance roots to deliver enhanced handling, high-powered engine options, and classic Mustang design. With its customizable features, the Mustang continues its legacy of quick turns and spirited drives, giving you the power to unleash your inner racer. Get behind the wheel and feel the rush of the 2022 Ford Mustang.
Hear the Roar With the 2022 Mustang's Powerful Engine Options
Rev up your engine and feel the power of precision performance with the 2022 Mustang's impressive engine options. With the 2.3L EcoBoost®, you'll experience the perfect blend of eco-friendliness and power, while the 5.0L V8 provides the ultimate high-octane experience.
2.3L EcoBoost Engine
Get ready to experience a ride that's not only thrilling but also eco-conscious, with the 2.3L EcoBoost engine. This engine packs a punch with an impressive 310 horsepower and 350 lb-ft of torque. But power isn't everything — the EcoBoost is designed to balance performance and efficiency, with an impressive city/highway fuel economy of 20-22/27-32 mpg.
2.3L EcoBoost High Performance Package Engine
With a 2.3-liter turbo-four engine under the hood, your High Performance Mustang roars to life, delivering a heart-pumping 330 horsepower and an adrenaline-inducing 350 lb-ft of torque. But don't let its ferocity fool you — this engine is also surprisingly efficient, boasting an impressive 19-20 mpg in the city and 25-27 mpg on the highway.
5.0L V8 GT and Mach 1 Engines
The Mustang's 5.0L V8 GT and Mach 1 engines deliver a symphony of power and performance. The GT's 450-horsepower V8 engine will take you from 0 to 60 in just 4 seconds, leaving a trail of awe-inspiring exhaust notes behind you. Meanwhile, the Mach 1's 470-horsepower V8 engine ups the ante with an aggressive, race-inspired roar, catapulting you to top speeds with effortless ease. And despite their impressive performance, both engines deliver efficient fuel consumption, with the GT achieving up to 24 mpg on the highway and the Mach 1 boasting up to 23 mpg on the same road
5.2L V8 GT500 Engine
Unleash the raw power of the 5.2-liter V-8 engine, engineered to deliver a heart-stopping 760 horsepower and 625 lb-ft of torque. This engine is a true masterpiece, crafted to awaken your senses and elevate your driving experience to the next level. The GT500's supercharged V8 engine is not only a powerhouse, but it also offers impressive efficiency with a fuel economy rating of 12/18 mpg (city/highway).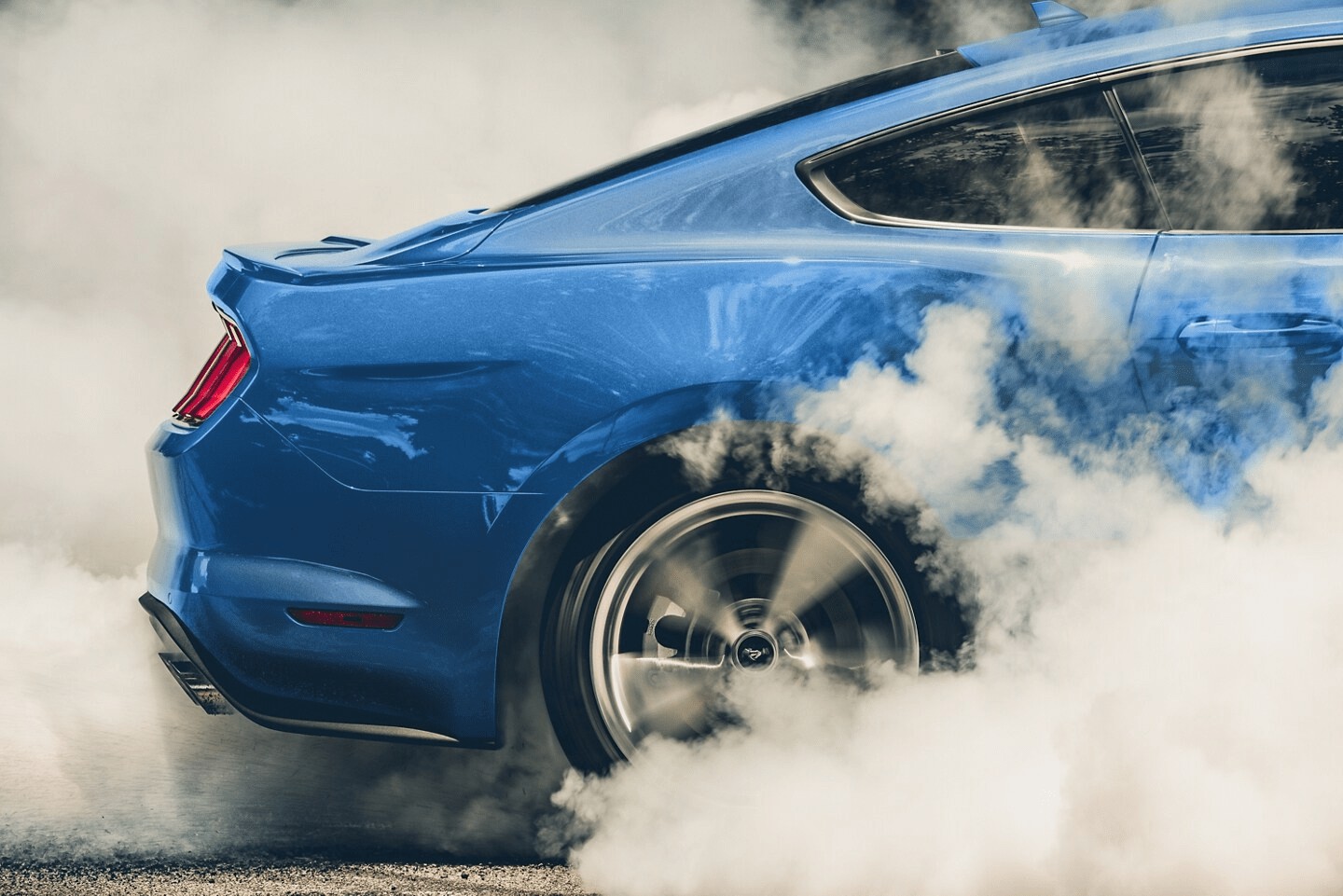 Unleash Your Inner Racer with the Mustang's 10-Speed Architecture
Get ready to experience a whole new level of performance with the Ford Mustang's 10-speed architecture. This cutting-edge technology is designed to provide optimum ratio progression and unmatched performance that will leave you breathless. With the steering wheel-mounted shift paddles, you'll feel like a professional race car driver as you effortlessly shift gears. And thanks to launch control, you'll be able to achieve quick starts with ease. But that's not all — the electric line-lock feature is included to help you lock the front brakes and release the rear brakes, making those back tires spin and warm up in no time. And with real-time performance info displayed on your in-dash LCD screen, you'll always know exactly how your Mustang is performing. So, whether you're racing on the track or simply cruising down the highway, the Ford Mustang's 10-speed architecture is sure to take your driving experience to the next level. Buckle up and get ready to shift into high gear.
The 2022 Ford Mustang's Five Trim Levels
Are you ready to experience the raw power of the 2022 Mustang? Buckle up, because this muscle car is the stuff of dreams. With five unique trim levels to choose from, each with unique engine specs and cutting-edge tech, the 2022 Ford Mustang is the ultimate driving machine.
Mustang EcoBoost 
Glide across the pavement on 17-inch aluminum wheels and feel the power at your fingertips with launch control. Relax in the comfort of front cloth bucket seats and take control with the tilt-telescopic steering wheel. Safety is paramount, which is why we've included eight airbags for your peace of mind. As the sun sets, LED exterior lights illuminate your path with auto on-off headlights, taillights, and daytime running lights. Enjoy the convenience of remote keyless entry and push-button start in this Mustang masterpiece.
Mustang EcoBoost Premium 
With driver-selectable driving modes, you can customize your ride to fit your mood. The EcoBoost Premium's aluminum pedals and instrument panel add a touch of elegance, while the dual-zone automatic climate control keeps you comfortable on any journey. Get comfortable in the 6-way power driver's seat or the 4-way power passenger seat, both with heating and ventilation options. Connect your Android or Apple device with ease, and let the Mustang EcoBoost Premium take you on an unforgettable ride.
Mustang GT
LED fog lamps illuminate the road ahead, while power glass side mirrors provide effortless adjustments. The raised blade decklid spoiler adds an extra edge to the already impressive exterior. The dual exhaust with quad tips roars with power, announcing your presence on the road. Rear parking sensors ensure safe and easy maneuvering. Slip into the luxurious six-way power driver's seat or the four-way power front passenger's seat, and you'll feel the comfort and control that only a Mustang can provide.
Mustang GT Premium
Built with the signature GT features, this Mustang takes it up a notch with a range of additions designed to deliver an unforgettable driving experience. As you settle into the cockpit, you'll notice the heated side mirrors and pony projection lights, while dual-zone automatic climate control ensures a comfortable ride inside. Aluminum foot pedals add a touch of sportiness and the ambient lighting with MyColor and 4.2-inch cluster create a personalized atmosphere that suits your style. 
Mustang Mach 1
This ultimate performance machine takes everything that the GT Premium offers and adds a whole lot more. You'll get 19-inch aluminum wheels, Recaro cloth sport seats, larger brake rotors, and Brembo 6-piston front-brake calipers. But that's just the beginning. With the MagneRide damping system, heavy-duty front springs, enlarged radiator, and open-air induction system, this car is built for speed. With a performance-tuned chassis, a 3.73 Torsen rear axle, and a performance exhaust system, the Mach 1 is ready to take on any challenge you throw its way.
Unleash your inner mustang: Find the perfect ride at J.C. Lewis Ford Pooler
From the pinnacle of luxury to the ultimate in power, our Mustang lineup will have you roaring down the road with confidence and style. As an American icon, the Mustang has captured hearts for generations, and our selection of 2022 models continues this tradition with cutting-edge technology, sleek designs, and unbeatable performance. Our team is dedicated to helping you find the Mustang that's tailored to your specific needs and desires, offering a variety of configurations and options to create the perfect ride for you. Don't settle for a cookie-cutter car — let J.C. Lewis Ford Pooler help you unleash your inner Mustang with a vehicle that's truly one-of-a-kind.
Drive safer and smarter in the 2022 Mustang
The 2022 Ford Mustang is equipped with the innovative Ford Co-Pilot360™ technology, providing you with advanced driver-assist features to help you navigate even the busiest roads with ease. With the Blind Spot Information System (BLIS®) and Cross-Traffic Alert, you can confidently maneuver through any situation, knowing you have coverage for both your truck and trailer.
The Pre-Collision Assist with Automatic Emergency Braking (AEB) system scans the road ahead for potential collisions and alerts you in time to prevent them. And if necessary, it can even apply the brakes for you. 
For an extra layer of protection, opt for the Ford Safe and Smart™ Package, featuring Adaptive Cruise Control and a Voice-Activated Touchscreen Navigation System with pinch-to-zoom capability, SiriusXM Traffic and Travel Link.®