Meet the 2022 Ford Escape
Looking for a ride that's practical but still a thrill to drive? Look no further than the 2022 Ford Escape. This SUV offers the perfect blend of comfort and excitement, with a variety of powertrain options to choose from, including gasoline, hybrid, and plug-in hybrid models. And with its sleek, eye-catching exterior and smart tech features, you'll turn heads wherever you go while staying safe on the road. 
When you need to haul both people and cargo, the Escape's sliding second-row seat with 60/40-split fold down function has got you covered. You can comfortably fit five passengers with ample leg room, or fold down the rear seats to make room for all your gear, from shopping hauls to college move-ins. Why settle for a boring ride when you can have it all?
Conquer the road with four powerful engine options
The 2022 Ford Escape offers a suite of four formidable engines, each with its own unique personality and prowess. Whether you're looking for the speed of a gazelle or the efficiency of a hummingbird, the Escape has got you covered. With options ranging from hybrid to plug-in hybrid, you'll have the freedom to choose the engine that best aligns with your lifestyle. The gas engines are no slouches either, harnessing their power with an eight-speed automatic transmission that will leave you feeling like a racecar driver. And for those who crave even more control, the Escape offers both front-wheel drive and intelligent all-wheel drive, depending on the trim level you select.
1.5L EcoBoost® Turbo Three-cylinder Engine
The Escape's standard engine is a marvel of modern engineering that's sure to set your heart racing. With a boost from its turbocharger, this engine cranks out a staggering 181 horsepower and 190 pound-feet of torque, enough to take you from zero to 60 in a flash. And if you need to haul some serious cargo, don't worry — you're covered with a towing capacity of up to 2,000 pounds.
2.0L EcoBoost Turbo Four-cylinder Engine
This engine boasts a heart-pumping 250 horsepower and a staggering 280 lb.-ft of torque. With the strength to tow up to 3,500 lbs, this powerhouse can haul your precious cargo with ease. And with its eight-speed automatic transmission, every gear shift is as smooth as silk, ensuring an unparalleled driving experience.
2.5L iVCT Atkinson Cycle Four-cylinder Hybrid Engine
This powerhouse combines eco-consciousness with sheer driving pleasure. With a total of 200 horses galloping under its hood and 155 lb.-ft of torque eagerly waiting to pounce, this engine is a force to be reckoned with. And don't be fooled by its eco-friendly demeanor — it's still capable of towing up to 1,500 lbs, making it the perfect companion for adventurous souls.
2.5L iVCT Atkinson Cycle Four-cylinder Plug-in Hybrid Engine
Meticulously crafted to deliver unparalleled performance, this hybrid powerhouse engine offers a combined output of 221 horsepower and 155 lb.-ft of torque. But that's not all — this versatile engine also boasts a towing capacity of up to 1,500 lbs, making it the perfect choice for drivers who demand both power and versatility from their vehicles.
Enjoy modern tech features and a luxurious interior.
Buckle up and get ready to experience the journey of a lifetime with the 2022 Ford Escape. Step inside and feel the luxurious comfort of its well-crafted cabin, designed to make your daily drive a breeze. The Escape offers a sliding second-row seat with a 60/40-split fold-down function, making it perfect for both passenger and cargo hauling. With a collection of advanced technology features, including the standard SYNC® infotainment system with a 4.2-inch center screen, you can easily access your maps, messages, and music without ever taking your eyes off the road. And for the ultimate hands-free experience, higher trims offer an available head-up display, providing a way to monitor your key vehicle information while keeping your eyes on the road ahead.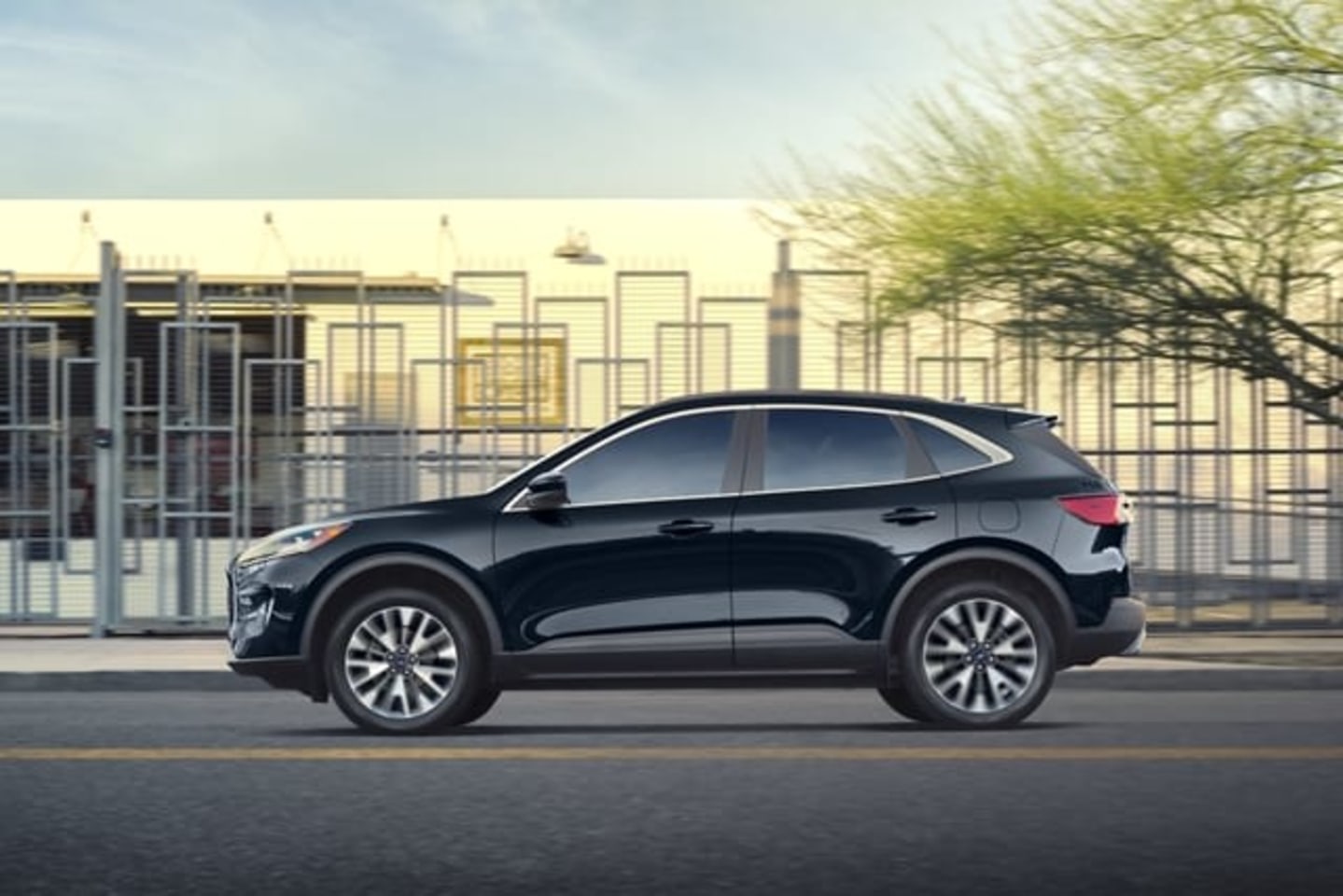 AWD with AWD Disconnect
The 2023 Ford Escape takes performance to the next level with its available All-Wheel Drive featuring AWD Disconnect. This innovative system can detect when AWD isn't necessary and disables the rear driveline, allowing the front wheels to do the heavy lifting. This not only reduces drag and energy demands on the drivetrain but also delivers a more efficient and agile driving experience.
Selectable Drive Modes
Get ready to take on any road with the 2023 Ford Escape's innovative driving modes. With five different options to choose from - Eco, Sport, Normal, Slippery, and Deep Snow/Sand - you can customize your driving experience to your liking. Whether you're looking for a fuel-efficient cruise or an adrenaline-fueled ride, each mode modifies the electronic stability control and traction control systems for optimal performance. And the best part? Once you select your mode, you can sit back, relax, and let the Escape do the work for you.
Expert Assistance for Your Escape Journey: Shop at J.C. Lewis Ford Pooler
Are you ready to take your driving experience to the next level? Look no further than J.C. Lewis Ford Pooler, your go-to destination for securing the ultimate 2022 Ford Escape. Get ready to embark on an exciting journey to find your perfect ride with our vast selection of Escape compact SUVs. With numerous configurations available, you'll have the luxury of customization to create an SUV that matches your unique style and needs.
The 2022 Ford Escape's Four Trims
Experience SUV driving like never before with the 2022 Ford Escape's array of versatile and personalized trim levels. With four distinct options, ranging from the entry-level S to the luxurious Platinum, there's a perfect fit for every driver. Elevate your journey with tailored features designed to enhance your individual driving style and needs.
Escape S 
The Escape S trim packs a punch with standard features including cruise control, Bluetooth audio, power windows, and a backup camera. What sets it apart is the sliding second-row seats, a rarity in its class, allowing for versatile interior configurations. Safety is not compromised either, as the Ford Co-Pilot360 safety tech suite comes standard on the Escape S.
Escape SE
The Ford Escape SE trim comes with excellent standard features and exclusive option packages not available in the base trim. It's the top choice for most drivers seeking the best value. The SYNC 3 infotainment system with an 8-inch screen is one of its most significant upgrades, offering Android Auto and Apple CarPlay integration, essential for smartphone users. 
Escape SEL
The Escape SEL boasts 2.0-liter turbocharged engine, providing a fun and efficient ride. It includes 18-inch machine-face aluminum wheels, fog lamps, and ActiveX faux leather seats, as well as the Convenience and Cold Weather Packages. AWD comes standard with this trim level.
Escape Titanium
The top-tier Titanium trim of the Ford Escape is stylish and well-equipped with a standard 2.0-liter turbocharged engine and all-wheel drive. It includes advanced tech features like front parking sensors, rain-sensing wipers, a 12.3-inch digital gauge cluster, and a hands-free power liftgate. The Ford Co-Pilot360 Assist+ system, universal garage door opener, ambient interior lighting, memory package, power front seats with lumbar support, and auto-dimming rearview mirror are also standard.