Bronco Earns Three-Peat at Rebelle Rally
Feb 09, 2023 - 5 minute read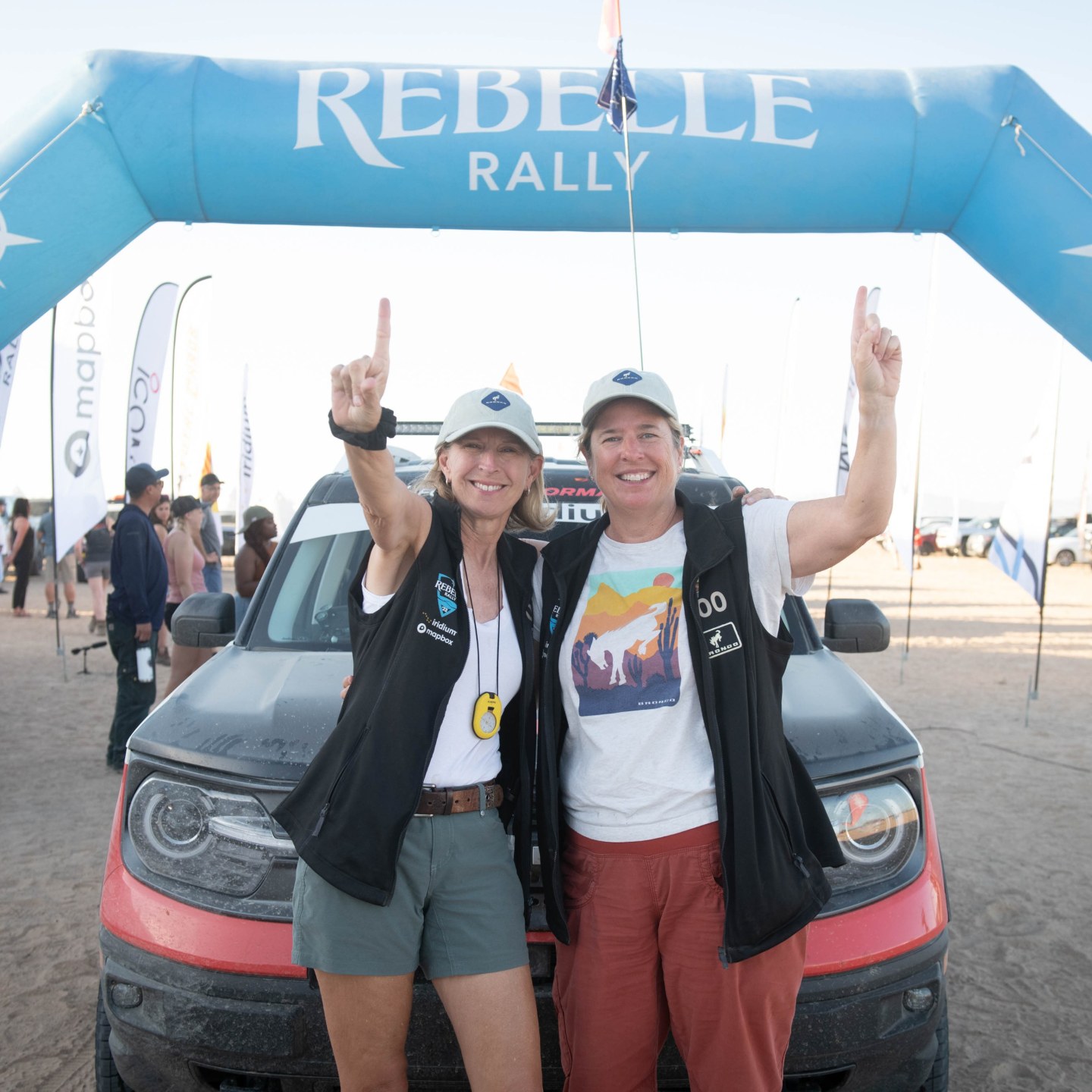 The Rebelle Rally is the first women's off-road navigation rally raid in the United States.
Blending the love of driving with the ultimate challenge of precise navigation, the Rebelle tests your skills over 8 days of competition. It is not a race for speed, but a unique and demanding event based on the elements of headings, hidden checkpoints, time, and distance using maps, compass, and roadbook.
Earning a three-peat in the Rebelle Rally's X-Cross™ class, Bronco Sport once again proves that Bronco, Ford's outdoor brand of only-4x4 vehicles is furthering adventure for novice and off-road pros through its Built Wild innovative design, capability and durability. 
Earning the three-peat win across the seven-day rally was Melissa Clark, a Bronco Off-Roadeo Moab Trail Guide and 2021 X-Cross winner, and partner Chris Benzie, a veteran Rebelle Rally navigator and semi-retired aerospace engineering executive. The Bronco Sport Badlands duo lead five out of seven rally days in the X-Cross class, which features two-wheel or all-wheel drive vehicles. 
"We're proud of all the Bronco teams competing in this year's Rebelle Rally as these ladies exemplify how each Bronco SUV is designed from the factory to elevate all skill levels of off-roader confidently through the most extreme environments," said Dave Bozeman, vice president, Ford Customer Service Division, and vice president, Enthusiast Vehicles, Ford Blue. "We congratulate all of the Bronco teams, including Melissa Clark and Chris Benzie who gave Bronco Sport a never-been-done three-peat win in the X-Cross Class." 
In addition to showcasing the off-road ability of the vehicle entries, the Rebelle Rally is designed to challenge the navigation skills of the participants. The event started in Incline Village, Nevada, on Oct. 6, and wound its way across rugged terrain in Nevada and California, finishing Oct. 15 in the Imperial Sand Dunes in southern California. Each team consists of a driver, navigator, and their vehicle, with no personal support crews allowed. Participants spend their nights camping along the way. 
Bronco brand also saw both of its Bronco SUVs finish the Rebelle Rally in the 4x4 class, which features four-wheel drive vehicles. 
Navigating the 1,500-plus mile terrain in a Bronco two-door Wildtrak™ with a HOSS 3.0 System Package upgrade, professional driver and Bronco Brand Ambassador Shelby Hall and Penny Hall, an experienced navigator took sixth place. 
Outside of the Bronco brand sponsored teams, five other Broncos, including a first-generation 1969 Bronco, as well as a 2021 Bronco Sport First Edition took-on and finished this year's Rebelle Rally.  
Let's meet some of the teams!
BRONCO TEAMS:
CROC STARS - We are sisters, who live far away from each other, and are very excited to share this experience together. We both love music festivals and the outdoors. One of the best things about preparing for the Rebelle has been the amount of time we now spend together especially with our third teammate (Ford Bronco) aka The Croc. Driver- NICOLLE IOAKEM, Navigator, ANGELA TERRY.
4WP BELLES - What started as being one of the few women in the automotive industry that turned into co-workers, travel companions and now 2nd time teammates, KATHRYN REINHARDT, Driver - TORI BUNDRANT - Navigator
TEAM GOAT
After securing the first victory for Ford in the New Generation Bronco, seasoned off-road veterans and 2020's X-Cross class champions Hall (driver) and Dale (navigator) returned to claim 4th place at the 2021 Rebelle Rally in the 4×4 class. This year they return to compete again in the 4×4 class with the 2021 2-door Bronco Wildtrak. Hall's off-road experience is vast but some of her favorite moments include racing side-by-sides, as well as her grandfather's legendary first-generation Bronco – the only 4-wheel drive vehicle to ever win the Baja 1000 overall. Shelby joined the Bronco R race team at the 2019 and 2020 Baja 1000 races, and has continued working with Ford becoming a consultant for female based training programs, is a Bronco Brand Ambassador, and is an off-road driving coach. Riding with her in the navigator's seat will be Dale, a seasoned off-road driver who once navigated nearly 28,000 miles from Vancouver, Canada to Tierra del Fuego, Argentina during a year-long Pan-American overland expedition. When she isn't adventuring, Dale is the creative director of her interior design firm, Penny Dale Design Studio. Driver - SHELBY HALL Navigator - PENNY DALE
TEAM BABY BRONCO It all begins with a rainy day in Portland, a dead alternator, and a stranger delivering a tool kit. From that rainy day in Portland a friendship sparked that lasted through different states, crazy sports, motherhood, and travel. However, we are about to embark on our most ambitious adventure yet!
After that first meeting in that parking lot and hoping the alternator they bought was going to work, the adventures of Trista and Karisa had only just begun.
About a year after their first introduction Trista talked a naive Karisa into signing up for her first triathlon, without her fully understanding what a half-iron distance really meant, and especially the Wildflower triathlon, which just so happens to be the hardest half iron in the United States. After months of training both completed and rocked it and went on the complete many triathlons after that!
Trista also talked Karisa into a 24hr mountain bike race, Karisa agreed, even though she had never ridden one before. Once again both ladies rocked it and after making it to the finish line Karisa never picked up a mountain bike again.
Then Trista and family bought and kitted out a new Toyota 4Runner. After many successful off-road trips and even a few reconnaissance missions to fuel hungry cyclists with charcuterie on logging roads they fell in love with off-roading!
Trista invited Karisa to attend the 2018 Northwest Overland Rally where they were introduced to amazing vendors and companies involved with off-roading. That's where they first learned about Rebelle Rally. From then on they were convinced that they would one day be a team ready to run the Rebelle! DRIVER KARISA HAYDON Navigator - TRISTA SMITH.
TEAM BUILT WILD Melissa and Chris met in the 2018 Rebelle Rally. Chris admires the way Melissa pilots the Bronco Sport through a Rebelle course and Melissa thinks Chris can keep them from getting lost. Driver - MELISSA CLARK (FISCHER). Navigator - CHRISTINE BENZIE
To visit your Bronco Experts today, call J.C. Lewis Ford (912) 210-5677.